Classic pasta primavera is a dish that celebrates spring, topping pasta with sauteed fresh vegetables, usually including asparagus. Although there are versions of the recipe that use a cream sauce (sacrilege!), usually it's a very light, fresh dish that is tasty, healthy, and fairly quick to prepare. In the version I make, the only sauce is the olive oil the vegetables are sauteed in, plus a few spoonfuls of basil pesto. On this occasion, I also added some salmon chunks, because we currently have a goodly amount of salmon vacuum-wrapped in our freezer after a recent successful fishing trip. Besides salmon, any firm-fleshed fish should work (sometimes we use fresh albacore), and shrimp and scallops work nicely, too.
Because the actual cooking time is very short, you'll need to prepare all of the ingredients in advance.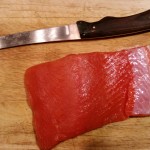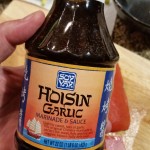 Skin the salmon–only a small piece is needed–remove any pin-bones in the meat, cut into cubes roughly one inch square, and place in a bowl. I like to toss the cubes in a spoonful or two of garlic hoisin sauce for extra flavor.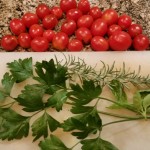 Slice a handful of cherry tomatoes in half, and mince a large sprig of fresh Italian parsley and fresh rosemary.  Put the tomatoes and herbs in a bowl, added some minced or crushed garlic,and toss with just enough balsamic vinegar to coat.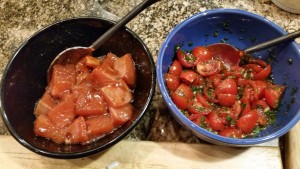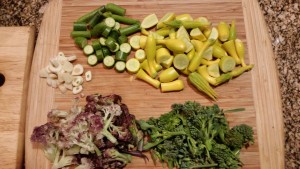 Next you'll need to prepare your vegetables by cutting them into small pieces. Pasta primavera is a wonderfully flexible dish–you can use whatever fresh vegetables you have available. On this occasion, we used the dish to say goodbye to some plants in our garden that had reached the end of their season. Because of the cooling autumn nighttime temperatures, our yellow squash and zucchini plants had a number of baby squash on them that had set but had essentially stopped growing, so we harvested those then pulled the plants out of the garden. We also harvested some small broccoli shoots that had grown on a plant the main head had previously been harvested from, plus some purple cauliflower, and I cut about three cloves of garlic, also from the garden, into thin slices.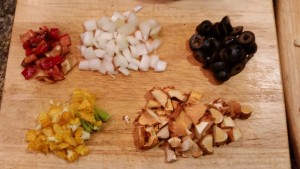 We also cut up some red sweet pepper, a small sweet onion, some chanterelle mushrooms, a few black olives, and–just because we had them–some squash blossoms. But again, almost any combination of vegetables, as long as they're fresh, will work in this dish.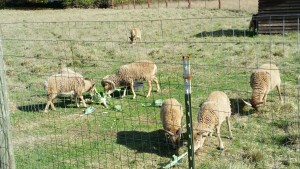 Very little goes to waste on our farm. Our sheep also benefited from this dish–here they're feasting on a cauliflower plant pulled from the garden after its head had been harvested.
Now it's time to actually begin cooking. Bring a saucepan of water to boil for the pasta and begin cooking it. On this occasion we used a penne pasta, but any similar size, such as casarecca or gemelli (aka rotini) will work–you want a pasta that's close in size to the vegetable and salmon pieces. Incidentally, I used to think there wasn't much difference in pastas, but a few years ago I was enlightened. Some pastas really do have much more flavor than others. Some of our favorite brands now are rustichella d'abruzzo, from Italy, and Sfoglini, which is made in New York City, athough both are little pricey. A very good brand which has tested high on blind tastings, but is considerably less expensive if you have the ability to shop at a Costco store, is Garofalo, another imported Italian variety.
Add olive oil to a saute pan or large skillet. Use a good oil that has flavor, because it will be a significant element of the vegetable topping and overall taste of the dish. Over medium heat, begin sauteing the vegetables, adding them sequentially according to how delicate they are and how long they'll need to cook. With the vegetables we were using, I began with the onions, garlic, and red pepper, then after sauteing them for a minute or two, stirring constantly, added the mushrooms and olives. After a minute or two more I added the squash–if they'd been just diced squash, rather than these delicate baby squash, they'd have gone in earlier–and after another minute the broccoli, cauliflower, and cubes of salmon. As soon as the broccoli turns a bright green, turn off the heat. I added the squash blossoms at that point, then about three heaping tablespoons of pesto and a few pinches of sea salt, and stirred the vegetables to coat them. We always make and freeze a number of batches of pesto during the summer months when fresh basil is plentiful to be sure we have some on hand, but if you don't make your own a good quality store-bought pesto is fine.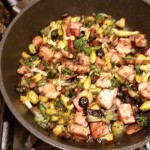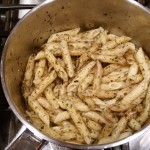 Here are the vegetables and salmon, sauteed and tossed with pesto. Meanwhile, when the pasta is done drain it, return it to the pot, and toss it with a tablespoon or two of pesto to coat.
It's done! For each serving put pasta in a bowl, top with some of the vegetable and salmon mixture, then add a spoonful or two of the the tomato and herb mix over top. Total cooking time should be fifteen minutes or less, plus maybe another twenty to thirty minutes of preparation time in advance.