You need to trust me on this one. I know it sounds strange–it did to me, the first time I saw the recipe. And you may think that you don't like some of the ingredients, so you wouldn't like the finished dish. But this recipe is quick and easy, uses only a few inexpensive ingredients, and has a very unique and delicious flavor, unlike any other dish I've ever had before. Give it a try.
Jeanette and I found this recipe in an Italian cookbook we happened on years ago in a used bookstore. It's not the typical spaghetti and lasagna type of Italian cookbook most people are familiar with; instead it focuses on regional, country-style dishes. This particular dish is from the Apulia region of Italy.
Your basic ingredients are a medium size turnip or four to five of the small Japanese salad turnips that have become popular in many farmers markets in recent years, enough fresh turnip greens to fill a medium mixing bowl or colander, a two ounce can of anchovies (I like the King Oscar brand–they're meatier than many others), four to five large cloves of garlic, some good quality, flavorful olive oil, red pepper flakes, some Parmesan cheese, and a little white wine. You'll also need the pasta–use one that has a small to medium size, such as penne or rotini, or one of my favorites, caesarica, because you need to be able to toss the cooked pasta in the sauce to thoroughly coat it. Because this dish is so simple, if possible use an imported Italian pasta–many really do have more flavor than inexpensive mass produced pastas.
To begin, wash the turnip greens and tear them into bite sized pieces.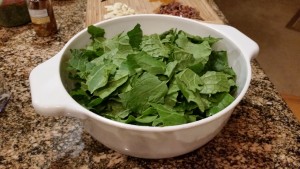 While the water for the pasta is coming to a boil, prepare your other ingredients. Coarsely grate about three to four tablespoons of the Parmesan cheese (DON'T use the pre-grated stuff in a can–it has no flavor!). Chop the turnip into pieces roughly one quarter inch square, slice the garlic cloves into thin slices, and coarsely chop the anchovies. Please don't rule this dish out if you think you don't like anchovies (many people dislike them)–when you use them in this recipe, they literally melt in the pan, and add a lot of flavor without making the dish taste like anchovies.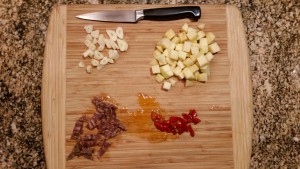 The original recipe calls for dried red pepper flakes to be added while cooking, and those work just fine. I've come to prefer using chopped Calabrian peppers in pasta dishes, however–those are what's on the bottom right corner of the cutting board in the photo above. A friend who worked in a restaurant taught me about them, and I find they add similar heat to a dish as dried pepper flakes, but more flavor. If you can find them (they're imported, and can be tricky to find), I'd recommend using about four, chopped, in this dish.
Put enough olive oil in a non-stick skillet to cover the bottom, then add the diced turnips and saute them on medium heat until their surface begins to lightly brown. Add the garlic slices, anchovies, and Calabrian peppers or red pepper flakes and continue to cook, stirring frequently, until the garlic begins to brown and the anchovies dissolve.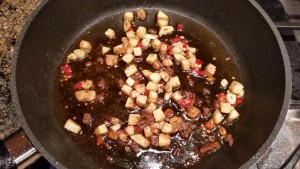 By now you should also have added your pasta to the boiling water–most pastas this size take somewhere around ten minutes to cook. Add the turnip greens a handful at a time, stirring constantly as they wilt. Periodically add a splash or two of white wine, as needed, and cook until the greens are tender, which should only require a few minutes. Here's what the dish should look like at this point: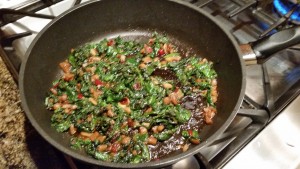 Turn the heat off under the skillet. When the pasta is done, drain it and add it to the skillet, stirring and tossing  it to thoroughly coat the pasta with the sauce, then sprinkle the Parmesan on top.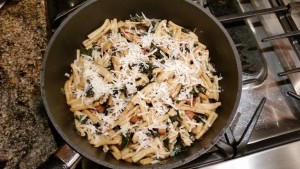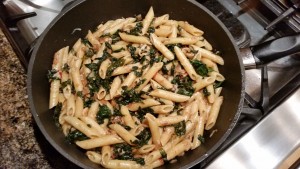 Now stir the cheese in, letting it melt into the sauce and on the pasta, and you're done–it's very quick and easy! Add sea salt to taste after serving.
If you eat meatless meals, this could certainly serve as a main course. We usually have it as a side with a grilled lamb chop, although on this occasion, we served it with trout we'd caught in the McKenzie River, that flows behind our farm. Jeanette made a quick, simple pesto out of olive oil, garlic, salt, and some extra turnip greens, and we stuffed the trout's body cavities with the pesto, wrapped them with thread to hold it in, and I cooked the trout in a wood smoker grill.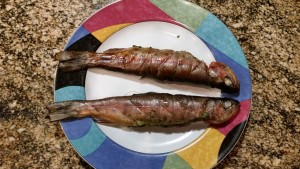 Another quick and easy protein option is to top the served pasta with a fried egg–either for dinner, or as we sometimes do, with the leftovers for a quick and different breakfast.