When I was growing up, Gumbo was a traditional post-holiday meal after Thanksgiving, both because my father loved it, and because it's a great way to use the carcass from the holiday turkey. In recent years, Jeanette and I have revived that tradition in our own home. Here's how to cook my version of Gumbo–if you're having a turkey for Christmas dinner, consider saving the carcass once it's done and giving this a try.
This is not the dish you would get if you order Gumbo in a New Orleans restaurant. A fancy chef's version of Gumbo is going to be all about the roux, the thick, dark brown base to which a limited amount of vegetables and either shellfish or meat are added, then it's served over rice. The Gumbo I make is closer to the dish's roots: a hearty, backwoods, catch-all stew, which originated in southern Louisiana in the 18th century. It takes a bit of time to prepare, and it makes a large amount, but if you're not feeding a crowd, don't worry, the leftovers freeze well and make a wonderful already prepared meal to pull out of the freezer at a later date.
The first step is to make the broth.That's where the leftover turkey carcass comes in. If you don't have one, you can also use a chicken carcass–you'll just end up with a smaller batch of soup. For the past two years, we've used the spatchcock method of cooking our Thanksgiving turkey, in which you cut out the bird's backbone, press the bird flat, and soak it in a wet brine for one day and a dry rub for another before roasting it. So we had some raw pieces–the backbone, neck, the wings, and the gizzard, heart, and liver–which we'd tossed in a bag in the freezer at Thanksgiving. We started our broth by putting those pieces in a large stockpot with a coarsely chopped onion, a carrot, and several bay leaves, covering them with water, and simmering for about two hours.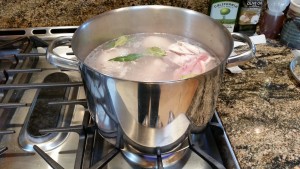 Then we added the carcass from the cooked turkey, from which most of the meat had already been removed, and simmered the lot for about another hour. Once the carcass pieces are beginning to separate, using a slotted spoon and tongs, remove all of the bones and meat from the broth. After they cool, pick the chunks of meat from the bones and set aside. If you have a dog, save the gristle, skin, organ pieces and the like in a separate bowl. Our Border Collie Sigrid feasted on those, stirred into her dry food a little bit at a time, for almost a week after Gumbo day.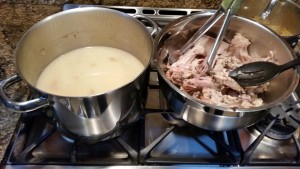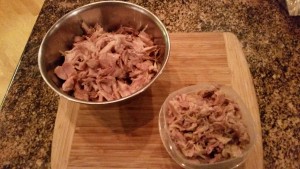 While waiting for the turkey bones to cool enough to pick, add your vegetables to the broth. Chopped okra is a classic Gumbo ingredient. Don't worry if you normally don't care for okra–it blends in with all of the other ingredients. And don't worry about following our choice of vegetables too closely–make the soup your own by adding what you want in it.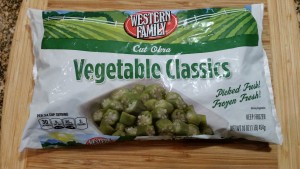 In addition to okra, onions, garlic, celery, and bell peppers are classic Gumbo ingredients. They'll add more flavor to the soup if you saute them in olive oil before adding them to the broth. Thyme is a classic herb used in Gumbo (thyme and sassafras root are the ingredients in Gumbo file, a powdered seasoning and thickening agent used in some versions of Gumbo), and we typically add oregano and marjoram, also, because we have patches of all of them growing in our greenhouse. Chop the oregano and marjoram and add them to the onions and peppers when you saute them. The easiest way to use fresh thyme, rather than picking all of those tiny leaves off of the stems, is to just tie a bunch of stems together with thread into a bundle and throw the whole thing into the pot. As the soup cooks, the leaves will come off the stems and become disseminated throughout the pot.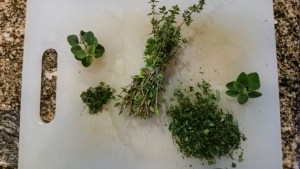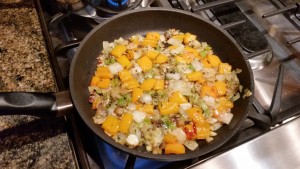 As I mentioned above, this is not fancy purist Gumbo–this version is a hardy, catch-all stew–a true peasant food. Since moving to our farm where we have a large garden, Jeanette and I now just pull out packs of vacuum-sealed frozen vegetables when making soups and stews–for this batch of Gumbo we used green beans, fava beans, corn, chopped yellow squash, chopped zucchini, tomatoes, and fire-roasted hot peppers. The frozen tomatoes are easy to use in recipes: while still frozen, dip them for a few seconds in a bowl of hot water, which will cause the skins to split and loosen. Remove the skins, coarsely chop the tomatoes, and throw them into your dish before they thaw and become messy. But before we had a large garden, a quick and easy shortcut we used when making Gumbo was to just add a bag of frozen mixed vegetables (in addition to the okra), and use canned diced tomatoes.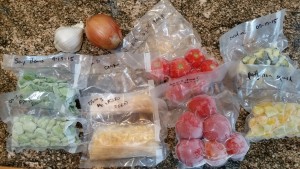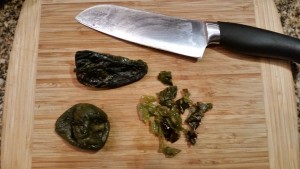 Gumbo is an easy soup to customize by varying the meat you use. In addition to the turkey, we like to add some pieces of spicy sausage–in this case some smoked Polish beef sausage made by Knee Deep Farm, a grass-fed beef ranch near Eugene. If you do use sausage, add it to the broth at the same time you add the vegetables.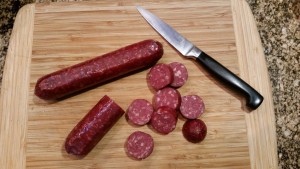 At this point, most of the work is done. Simmer the soup for at least an hour to cook all of the vegetables, but it's a very forgiving dish, so you can easily let it simmer longer–doing so will just give you a thicker soup, and will blend the flavors more.  Periodically taste the broth and add sea salt as needed, and adding some white wine will also add flavor to the finished broth. About twenty minutes before you plan to serve your meal, add the pieces of reserved turkey meat back into the soup. If you plan to add rice, a traditional Gumbo ingredient, be sure it's cooked by now. This version of Gumbo is hearty enough that you don't really need rice, but we often serve ours over a hearty rice-like grain such as faro or spelt.
We like a Gumbo that includes seafood, so we usually also add a handful of shrimp at this point–when we add the turkey meat–and if we have them, we gently simmer some shucked oysters in a saucepan in white wine and a dash of Worcestershire until their edges just begin to curl.
Your finished product should be a large pot of rich, hearty stew: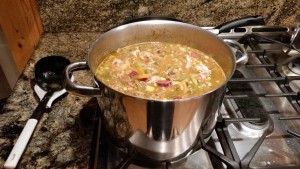 To serve, put a few spoonfuls of your cooked rice or other grains (if you're using them) in the bottom of each bowl. If you're adding oysters, put a few in each bowl, then ladle the hot soup on top. A salad on the side, and some bread–preferably fresh baguette–to sop up the dregs of soup once you've emptied your bowl, and you're ready for a delicious, hearty meal. If you enjoy spicy heat in soups and stews, Tabasco Sauce complements this Gumbo very well.