Here's a recipe for a classic Irish dish, Corned Beef with Vegetables, just in time for St. Patrick's Day. And this is a dish you should make a large quantity of, because there are three bonus meals you can make from the leftovers.
Beef is corned by soaking it for days in a spiced brine mixture. While it's certainly possible to do yourself, it takes time—most recipes recommend brining the meat for at least eight days. If your grocer can get good quality uncooked corned beef, or better yet, if there's a local butcher shop that makes its own in-house corned beef, that's a much easier route. As I mentioned, you should buy extra—as an example, just for the two of us, each year Jeanette and I buy a three pound corned beef roast from Long's Meat Market in Eugene, Oregon.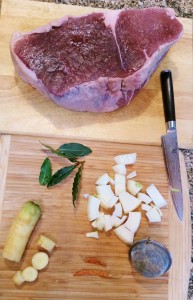 You'll want to start this dish fairly early in the day. Coarsely chop one thick slice of onion and one carrot, and arrange them in the bottom of a slow cooker, aka crock pot. Place the corned beef on top. Add about four bay leaves, plus the following spices: 1 tablespoon of coriander seeds, 1 dried chili de arbol pepper, and 2 whole allspice cloves. To keep them together, tie the spices up in a piece of cheesecloth, or—as I do—put them in a large stainless steel mesh tea ball. Add one to two bottles of Guinness Stout to the pot, until the meat is at least half submerged, and cook. How long and what setting you'll use depends on your crock pot—we use the high setting on ours, and it still takes close to five hours. Periodically turn the beef so all sides cook submerged for some time.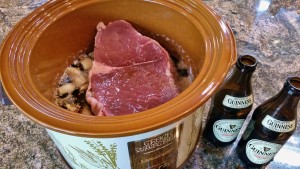 During the time while you're waiting for the meat to cook, you'll need to make two sauces and prepare the vegetables. For the Horseradish Cream Sauce, mix together 1 cup of thick plain Greek yogurt, horseradish to taste (we use about a half of a cup), one-fourth cup chopped green onion, 1 tablespoon of chopped parsley, 1 teaspoon of freshly squeezed lemon juice, and sea salt to taste. A word about the horseradish: try to get pure grated radish. Most of what's sold is actually a horseradish cream sauce, with much less flavor (we use Tulelake brand Old Fashioned Horseradish, made in Hillsboro, Oregon). After mixing all ingredients together, chill for at least one to two hours before serving. The sauce will keep for several days in the refrigerator.
The second sauce is a Guinness Mustard Sauce, for which you'll need one-half cup of a good, tangy Dijon Mustard (we use Old World Gourmet brand), 2 tablespoons of a coarse-grained mustard, 2 tablespoons of Guinness, 1 tablespoon of finely minced shallot, and 1 teaspoon of golden brown sugar. After mixing all ingredients together, chill for at least one to two hours before serving.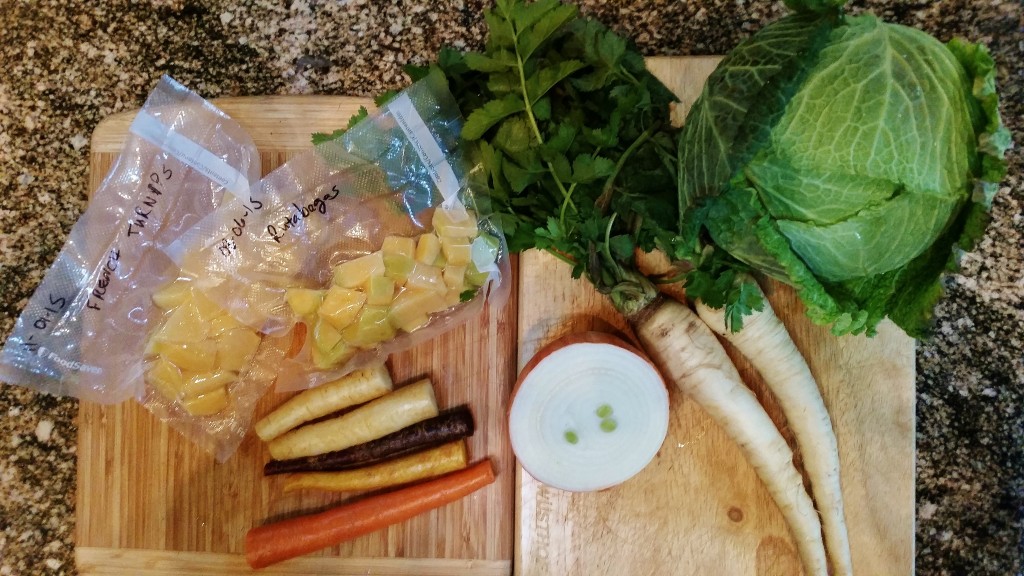 The basic vegetables for this dish are potatoes, onions, carrots, and cabbage, but we like to also add parsnips, turnips, and rutabaga. You'll need a large onion, 4 to 5 carrots, one head of savoy cabbage, and if you add them, about 2 parsnips and one each medium turnip and rutabaga. You'll also need enough potatoes to make about three cups coarsely diced. When we cooked this dish a few days ago, we were able to harvest the parsnips from our garden, and pulled the turnips and rutabaga, which we'd harvested from our 2015 garden and frozen, from the freezer.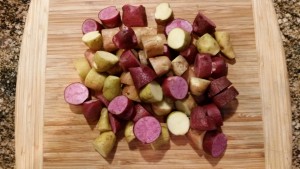 Cut all vegetables except the cabbage into roughly three-quarter to one inch pieces and place into a Dutch oven or similar large pot. Cut the cabbage into wedges and arrange on top. By now, hopefully the corned beef is beginning to show signs of getting tender, but is still a ways from being fork tender. Ladle most of the Guinness broth from the crock pot into the Dutch oven, until the vegetables are almost covered, and add more Guinness to the crock pot to replace the removed liquid. Bring the liquid in the Dutch oven to a simmer and cook until all vegetables are tender, which will probably take 45 minutes to an hour.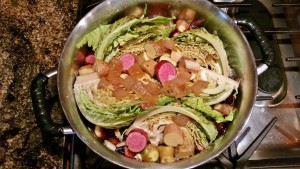 If Irish eyes are smiling on you, by the time the vegetables are done, the corned beef will be, also–it should so tender you can shred it with a fork. Remove the beef from the crock pot and cut one to two slices per serving. Add vegetables, and serve with the two sauces.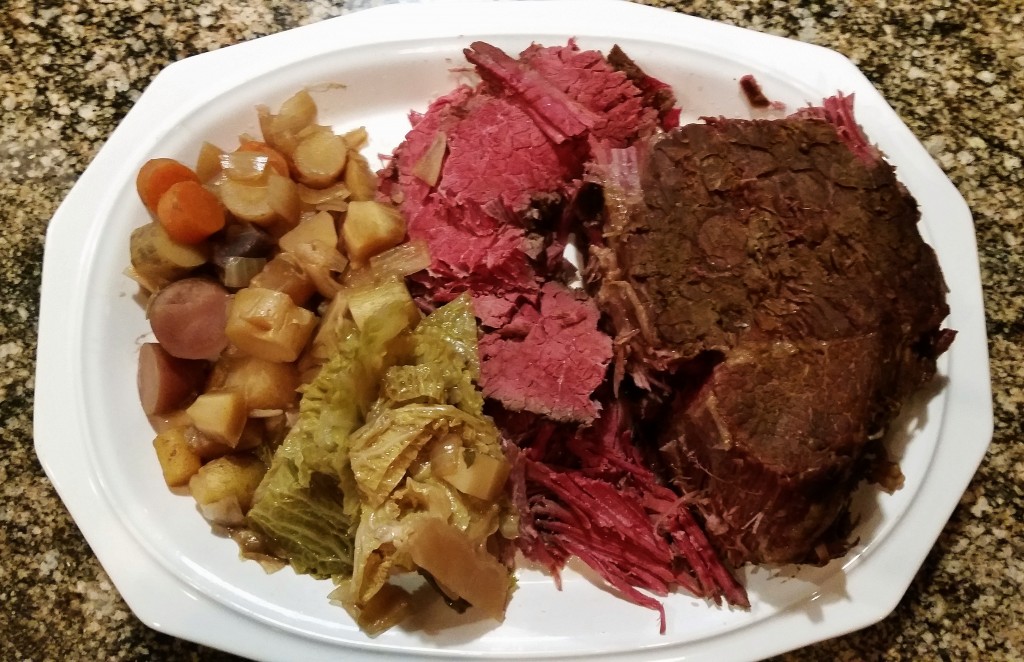 The leftovers are a wonderful part of this dish, And be sure to save all of the Guinness broth from both pots–you'll need it for bonus meal number three.
Bonus Meal #1: Corned Beef Hash
This can be eaten either as a breakfast or dinner. Cut several slices of the leftover corned beef, shred, and put them in a large mixing bowl. Dice or coarsely chop some of each of the leftover vegetables, add to the mixing bowl, and stir together with the meat. Beat one egg and stir thoroughly into the hash mixture.
In a large nonstick skillet, add some good quality, flavorful olive oil to cover the bottom plus about a tablespoon of butter. Add the hash mixture, flatten it to a uniform thickness with a spatula, and cook over medium heat, adding oil if necessary, until the bottom browns. Using a large spatula, turn the hash in sections and brown the other side. Serve topped with a fried or poached egg, with the two sauces.
Bonus Meal #2: Corned Beef Sandwiches
Spread slices of a good quality, firm rye bread with your preference of either Guinness Mustard or a Thousand Island Dressing (or both). Top one-half of the slices with sliced corned beef, some good quality sauerkraut (this year, for the first time, we made our own), and sliced Swiss cheese, preferably Jarlsberg. Warm in a 300 degree oven until cheese begins to melt, top with remaining slices of rye bread, and serve.
Bonus Meal #3: Corned Beef-Vegetable Soup
Coarsely chop any remaining corned beef, combine with remaining vegetables and the Guinness broth, and freeze for a future meal.