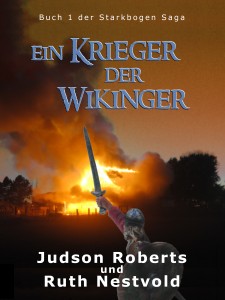 I am very excited to be able to announce that German language editions of the Strongbow Saga will be coming, beginning–in the spring or early summer of 2014–with Viking Warrior. I have long wanted to make the story available in other countries, but after having struggled so long and hard to regain control of the series from its original publisher, HarperCollins, I preferred to find a way to accomplish this without just selling the rights to foreign publishers.
A first necessary step occurred over the course of last year, when Amazon began opening divisions in various European countries, including the UK, France, Spain, and Germany. The Kindle e-book and print editions, in English, are already available overseas in those markets as a result. But the series will have a much greater chance to be discovered by many more readers worldwide if available in their native languages.
A second necessary step was to find someone to convert the English language stories into new language versions. I chose Germany as a first market to reach this way. But I wanted more than a rote, word for word literal translation into German—something that can make for an awkward read. Instead, I wanted the story to be retold, in its new German version, by a skilled, experienced storyteller in that language.  I wanted a resident author in Germany, to not just translate the stories, but to retell them in German, and also to be the German face of the Strongbow Saga, to promote the books as their works—because a truly good translation is a new literary work. What I wanted was not a translator, but an author partner.
Ruth Nestvold, an American author living in Germany, will be the German face of the Strongbow Saga. Ruth is a wonderful storyteller who has published many science fiction stories in various markets, and whose historical fantasy novel  Yseult was published by Random House Germany in 2009 under the title Flamme und Harfe. Her experience writing about a similar time period to that in which the Strongbow Saga is set makes her a particularly good fit for the series.
To learn more about Ruth and her books, read her bio, blog, and check out her catalog of books.
            And as to my progress on book 4 of the Strongbow Saga, I'm currently writing the last scene of the second to last chapter of the book. We're getting there!